Danielle Blyden, LCSW- Clinical Director and Owner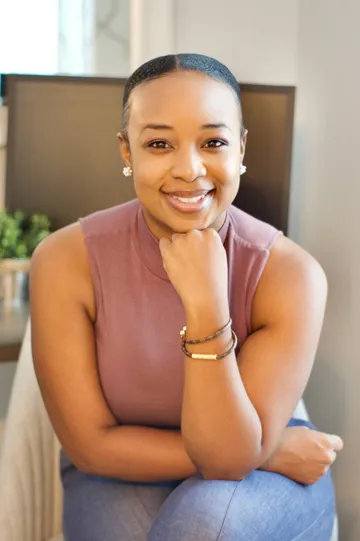 I am the owner and lead clinician at Bloom Counseling and Therapeutic Services where we specialize in adolescents and young adults because I believe it is the developmental age for change! The youthful mind is the perfect fertile ground for planting seeds of resiliency, coping skills and lifelong healthy habits. I believe in meeting people where they are at mentally and emotionally to give them the tools they need to bloom where they are planted!
I was born right here in Tampa Bay! When I'm not working I love to eat, travel, and dance! I received my Bachelors degree from the University of South Florida then travelled up North to attain my Masters degree in Social Work from the University of Georgia. I have over 10 years of experience empowering people around the world to be the best version of themselves.
We are so excited to meet you, together we can work through your difficult times and use them to help build a strong future! Are you ready to Bloom?
Rates: Intake $175/Individual Counseling $150
Viviana Garcia, LMHCI- Bilingual in Spanish
My goal and passion is to assist individuals in exploring their inner selves. I have experience working with clients in both a community mental health and private setting. I have worked with clients from various backgrounds and in areas such as depression, anxiety, trauma, multicultural challenges, and ADHD. I am Mexican American and am fluent in Spanish. I enjoy working with both adolescents and young adults. I often utilize holistic approaches such as mindfulness, along with evidence-based treatments when working with clients. I am eye-movement desensitization and reprocessing (EMDR) trained.
I received my Master's in Clinical Mental Health Counseling from Troy University and my bachelor's degree in Psychology from the University of South Florida.
During my free time I enjoy spending time with loved ones, along with exploring new places and traveling to other countries. I also love to listen to music from all genres and attending concerts, shows and festivals. Rates: Intake $150/Individual Counseling $135
Melissa Broner, LMHCI
I am a solution-focused, client-centered, CBT counselor with a passion for cultivating growth and resilience in teens and young adults. As a registered mental health counselor intern I have over 10 years of experience working in middle, high school, and collegiate settings. As a certified school counselor, I offer a unique perspective on helping youth through school challenges, bullying and social skills. I value supporting parents in building their own toolbox with skills intentionally designed to help their children thrive.
I have supported individuals with ADHD, anxiety, depression, self-doubt, anger, relationship challenges, and behavioral disorders. I enjoy facilitating psycho-educational counseling groups. As a multiracial clinician I have a passion for addressing the role race, ethnicity, and culture has in one's journey. I believe in using evidence-based practices while also being able to adapt to each client's unique needs. My goal is to help you improve your overall mental health, uncover the root causes of difficulties, work towards healing, and develop effective coping strategies.
I received my bachelor's and master's degree from the University of South Florida. Tampa is my home now, but I was born and raised in Miami, FL. I love to spend time with my 3 amazing children and husband. You can find me absorbing all the nature I can, dancing, and crafting. I hope to have the opportunity to help you Bloom!
Rates: Intake $150/Individual Counseling $135